How to Choose a Reliable / Good E-Commerce SEO Company?
Choosing a reliable good eCommerce SEO company for your business is an important task and you have to be very cautious about it. There is an old saying, "all that glitters are not gold". In this post, you will get to know what to do and what not to do and the ways through which you can select the right SEO company for your business.
Before finalizing an eCommerce SEO company for your business two basic processes are involved i.e., first, you will have to find the company and second get to know that company.
Finding a good reliable SEO company
Common mistakes which people make most often
Approaching Google for filtering companies in the first place –
There is less chance that you will find an actual good/reliable eCommerce SEO company on SERPs. This is because more commonly everyone thinks that a good and reliable SEO company will help in getting our keywords ranked on top on SERPs.
So if someone is looking for the best eCommerce SEO company in Delhi, then they have to Google "best eCommerce SEO company in Delhi" and thousands of results will show up regarding this. But that's not what's happening under the sun.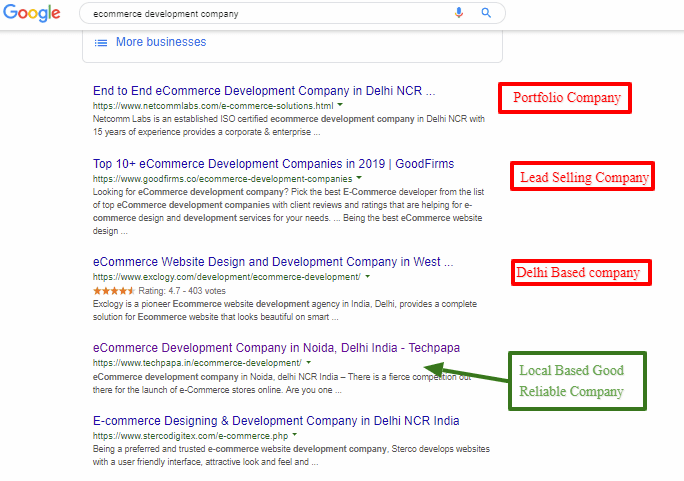 There are two kinds of companies, one who is focusing more on getting their website ranked on top of SERPs without their portfolio while others who are busy in providing consistent quality services to their clients and these kinds of companies are the actual good, reliable and trustable SEO companies.
It's not like, demanding companies who are satisfying their clients are not focusing on getting clients, and rather they get clients from recommendations through network marketing.
Relying more on search results containing lists of top companies –
Not all SEO companies who are ranking well on SERPs top listings are good. More often it happens that these type of company works their ass off of getting ranked on SERP and then sell those listings to companies mentioned in that list. Just like "Good Firms".
These companies are less trustworthy as compared to others. Their business model is like this, they try to get rank for search times like top SEO companies, best SEO companies, etc. It's not that every company does that but yes it is a common practice.
Thinking that there are some hidden SEO secrets –
There are no hidden secrets of SEO. It is a very well-formatted optimization technique for everyone. You can say it's just the rules. Some play better than others. It's always who can play better than their competitions. This is what separates from good, reliable SEO company from the rest ones.
Call with Expert

So what to do to avoid these mistakes?
Have a clear goal –Purpose is very important in order to determine your success rate. However, one should have clarity of what they want and why they want. There are two types of goals i.e., positive and negative. You must focus on positive goals.
Negative goals:-
Having an end-goal of achieving more traffic is some negative goals. This is because you will tend to focus more on traffic results rather content.
If your purpose is to beat your competitor then you will not run long in the SEO game. Focusing only on beating the competitor won't help you in focusing on your methodologies.
Being obsessed about getting keywords ranked on top of SERPs through black hat SEO strategy.
Positive goals-
For generating more traffic you should focus on creating quality content and marketing it through different SEO techniques.
In order to beat your competitor, you should focus on improving your content, strategies every time and try to be different from your competitors.
Try to improve your keywords ranking through white hat SEO strategy.
Look for company portfolio and testimonials on Google SERP:-
As mentioned previously that there are several other companies who work hard for getting ranked on Google SERP's but in reality, they don't have any work experience or portfolio. So to find good, reliable e-commerce SEO company on the search engine you can go for finding their portfolio or clients testimonials. This will help you in having an insight into the uniqueness of the company.
Find a good, reliable e-commerce SEO company through referrals or through networking –
One of the good sources of finding a good and reliable e-commerce SEO company is through your friends, personal networks and professional networks. Getting referrals is not everyone's cup of tea. This is because referral or recommendations has a value. You can take help from some of your professional or personal networks.
Similar to less competitive companies –
You can also try to build new relationships with similar less competitive companies. Mostly in B2B or an e-commerce SEO company, you can approach those people and build new long term relationships. It is a great way to find some good recommendations.
Try to sort at least four to five good clients that you want to approach –
This will give you an insight into approaching those clients. If you are not going to sort out then you keep distracting yourself to every other e-commerce SEO companies. This will also help you to know the kind of company and about your budget. This will also help you jotting the points which you will expect from that SEO company and building new relationships from them.
Reach out to insider people in the SEO industry –
If you have a habit of reading different SEO blogs and having different contacts with people on twitter related to this industry then you can also get recommendations for a good, reliable local e-commerce SEO company by influencing them. This is also called influencer marketing.
What not to do when hiring an e-commerce SEO company:-
Before proceeding to hire an e-commerce SEO company you need to avoid a few things, as this will save your time and money-
Avoid that e-commerce SEO company who promises to get overnight rankings or promises to improve ranking immediately. This is because SEO is a very competitive process and takes at least three to four months of consistent hard work. Sometimes it also takes more than six months. It depends on the type of website and how much improvement it needs but still tries to have patience.
Avoid promises like getting keyword ranked immediately on top of SERPs. This is because few SEO agencies tries to lure by using cache technique in your browser and asks for money after that.
Few bad companies opt for black hat SEO strategy instead of a white hat SEO strategy. This is very important for search engine submissions and creating backlinks. So first try to understand the basics of how SEO works otherwise you will end up in trouble.
Which type of questions you can ask to e-commerce SEO companies :-
You can break the ice by asking about the strategies that they will use and the reason behind those strategies for your goals. This way you will get to know whether they are opting for white hat SEO strategies or black hat SEO strategies.
You can also ask about the mode of communication and reporting process. This is crucial for developing a good relationship and will help you in analyzing and taking further future decisions.
You can enquire about the pricing, contract and your estimated budget and time duration required for your expected goals.
Make sure that the SEO company you are approaching are providing full-fledged services including website developments etc.
You can ask about getting full access of your live website and of analytics as well as AdWords account. This way you would have full control about what's going on under your skin.
Before finalizing an e-commerce SEO firm make sure that a firm must fit these parameters –
The first and fundamental thing is trust. Without it nothing is possible. You have trust those references or recommendation to which you have communicated with your networks.
Another parameter can be effective communication. If you have found an e-commerce SEO company but their communication skills are not good, then you might get a little frustration. Having good communication skills gives confidence and helps to trust more and building long term relationships.
Know full details regarding pricing, payment and contract structure. Once you are comfortable with these things then only say yes and finalize them.
Do You Know That Techpapa is One of the Good and Reliable E-commerce SEO Company, Noida, India?
Our clients always get more than expected because we at Techpapa believes in delivering results more than expected. On a lighter note, we have got most of our clients from recommendations. Our clients referred to one other.
Last year, we have increased more than 90 percent of our client's revenue for e-commerce business. And this is the reason why Techpapa is one of the most reliable e-commerce SEO company in Noida, India.
We always keep updating ourselves with never-ending Google updates of SEO and keep brushing up the new talents in our team. We believe in constant growth. Apart from this, we also help the company with services like – Search Engine Marketing, Social Media Optimization, Social Media Marketing including Facebook, Linkedin and Instagram marketing, Content Marketing including video content, E-commerce SEO service, Youtube Marketing, website development, app development etc. Feel free to contact us anytime for any kind of services