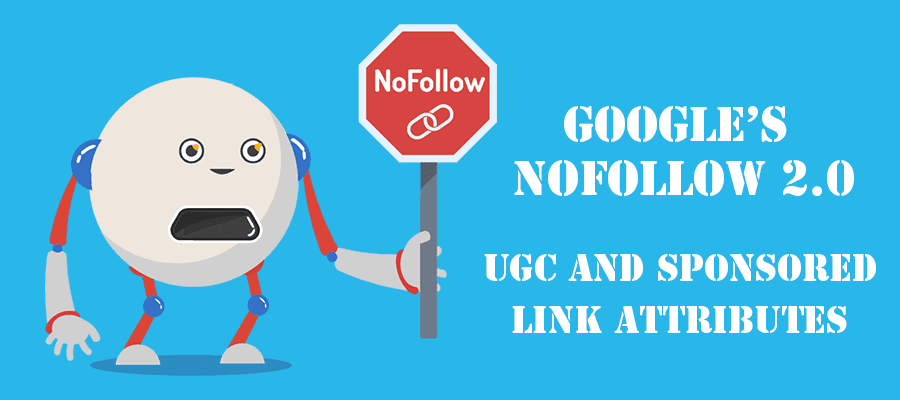 Impact of Google's Nofollow 2.0 – UGC and Sponsored Link Attributes
Google recently launched an update for NoFollow as NoFollow 2.0 new link attributes this September 2019 as a new way of recognizing links to fight spamming.
For those who don't know about what is NoFollow, here is the answer:-
NoFollow is a link attribute on a web page which instructs Google not to pass link juice or zero credit to that link. This link attribute was first launched by Google nearly 15 years ago to fight untrustworthy fake spam links in comments.
To understand it better, suppose, any webmaster doesn't want to allow Google to pass credits on any outbound links on their webpage either in content or in comments section then webmaster applies rel='nofollow' to that particular link.
So what exactly is NoFollow 2.0?
NoFollow consists of two main link attributes :-
rel = UGC: which stands for User Generated Content. This attribute has to be used for links in the comments sections of a landing page excluding editorial content part. Some credit can be given by Google for this attribute.
rel = sponsored: this attribute stands for paid or sponsored link for URL within the content. This attribute will not pass any credit.
rel = nofollow: this is the original old nofollow which will not pass any credit to that link.
Why Google introduced this No follow 2.0 Update?
Before NoFollow 2.0, many publishers would do their best to attract guest authors and used to charge money from guest authors for low quality content mostly (sometimes good quality) to provide do-follow links on their website.
As a result, Google then started affecting their website ranking.
Now in order to be safe they changed all do-follow links to NoFollow links creating chaos in building backlinks.
Moreover, publishers used to apply NoFollow links to all outbound links which confuses the Google to recognize them efficiently.
Therefore, Google launched this NoFollow 2.0 update as the new way to identify spam links and normal links more effectively.
What One Should Do?
For publishers – if you find useful content from good reputed guest authors then you can either ask them to pay money to get do-follow links or you can simply provide them do-follow links as your site will also be benefited from that kind of content.
Second thing is you are not so serious about content then you can ask for money for low quality content and provide them NoFollow link without knowing them.
Nevertheless, if you are small business / publishers then our suggestion is to apply correct attributes to different types of links accordingly and take no action on previously created links and start building new links.
For any link one can also use like this –
rel = 'nofollow sponsored' for sponsored or paid links, rel = 'nofollow ugc' for UGC links and rel = 'nofollow' for normal nofollow links.
The Conclusion –
From this update; Google, user as well as publishers / small business will be benefited especially users and business for long run. This update increases the odds of getting useful and relevant content from websites for users.